Next year me, Jared, my mother and my sister are supposed to be going to see Jared's mother for a week (in the states) then driving down to Florida and staying there for a week. That way the parents get to meet and then we get some sun and fun in Florida…
…I say supposed to however as I just found out about the Oasis of the Seas. Royal Carribean's newest cruise liner; and now all I want to do is take another 2 week cruise around the caribbean…well maybe a week so we can still go to see Jared's mother for a week. This ship is just insane, forget Central Park, NYC, try Central Park, OotS – a fully irrigated, open, real foliage park at sea.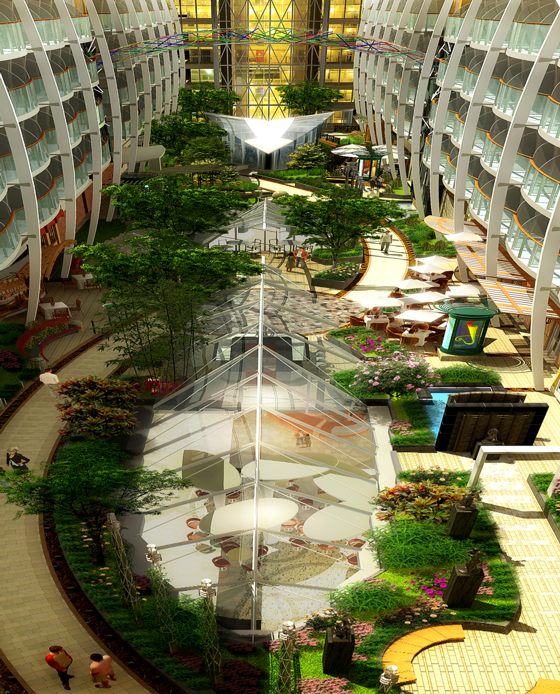 And it doesn't just stop there, directly below this park, there's a 2 level shopping mall. Then at the back of the ship is an AquaTheatre – kind of like Sea World has – except there's also a childrens carousel there too. There's also a moving bar that goes between the 3 floors of the royal promenade (not sure how that's gonna feel when you're tipsy.)
And like the other ships, there's a theatre, pools, climbing wall, several places to eat etc.
It's the addition of the park, the increased shopping area, the AquaTheatre and the size that makes this ship just so awe-inspiring though (the park alone is the size of a football pitch.)  It's 220,000 tonnes, can have 5,400 passengers, is 360 metres long (1,181 feet), width of 47 metres (154 feet).
Looking for cheap flights to Florida so you can enjoy this fabulous cruise ship?
Check out ebookers for flights to Fort Lauderdale, Florida
Comments
comments