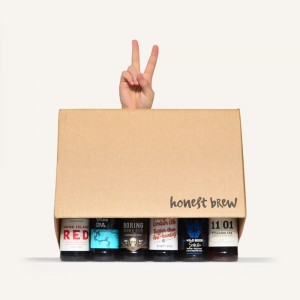 During my recent stumblings I came across a a nice website that ships interesting ales to your door. It's called HonestBrew. I did a quick Google and found a £10 discount for the first order too so I obviously had to place an order.
The signup process was straight forward; you get asked a few questions: how many bottles do you want at once, what type of ale you like (pale, amber, dark) and what flavours you like (e.g. light/crisp, citrusy/fruity). Then you're good to go and can get boxes daily (yes, daily), weekly or monthly.
I signed up, pushed the "process order now" button (so I'd get one quickly and not wait for the next month rotation, it being the 1st February and all) and awaited confirmation. The next day my confirmation of dispatch arrived with a list of beers. These were:
1 x Partizan – Saison Lemon & Thyme 3.8%
1 x Weird Beard – Five O'Clock Shadow – IPA 7.3%
1 x Fourpure – Amber Ale Can 5.1%
1 x Beavertown – Quelle Saison 4.1%
1 x Anchor – Liberty Ale – Pale Ale 5.9%
1 x Ilkley – Joshua Jane – Bitter 3.7%
1 x Ilkley – Rye n' Dry 5%
1 x Pressure Drop – Stokey Brown – Brown Ale 5.1%
1 x Odell – St. Lupulin Extra Pale Ale 6.5%
1 x Tiny Rebel – Hadouken Amplified IPA 7.4%
1 x Wild Beer Co – Madness IPA 7.0%
1 x Odell – 90 Shilling – Amber Ale 5.3%
1 x Honest Brew – Straight Up Amber Ale 4.6%
1 x Partizan – Saison lemongrass 3.7%
1 x Brooklyn – Brown Ale 5.6%
1 x By the Horns – Diamond Geezer – Red Ale 4.9%
1 x Five Points – Hook Island Red 6.0%
1 x Tiny Rebel – Full Nelson – Pale Ale 4.8%
Each ale links to their site so you can read more about it, I had to remove the links though as they go through an external domain for tracking and I'm unsure how much of the encrypted URL points directly at me personally. As an example though, the Tiny Rebel, Hadouken Amplified goes to http://honestbrew.co.uk/shop/tiny-rebel-hadouken/ . I feel, considering the link to each ale, there should be more information on the page. These types of ale's often have a bit of a story behind them and it would be nice to see that and read it.
So at the moment I am waiting for the ale to arrive and will post more about them once they do arrive!
Image from Honestbrew
Comments
comments