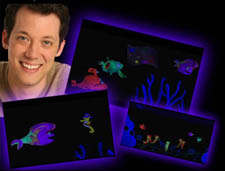 John Tartaglia's Imaginocean!, a new family musical set in the depths of the ocean, will debut November 20 on Royal Caribbean's newest cruise ship, Oasis of the Seas. Donna Drake directs the production.
Conceived and written by Tartaglia, with music by William Wade, the show follows the adventure of a group of fish friends, who uncover a map which leads them to ultimately uncover the treasure of each other's friendship. The puppets for the piece are designed by The Puppet Kitchen, and the show will be performed by a cast of puppeteers.
For further information, visit www.royalcaribbean.com.
Looking for cheap flights to Florida so you can enjoy this fabulous cruise ship?
Check out ebookers for flights to Fort Lauderdale, Florida
Comments
comments