…but never go to the gym without some kind of energy source. A piece of advice I keep meaning to pay attention to but it's a case of "do as I say, not as I do." I got home from work, had a drink of juice, quickly ate a Snickers then straight off to the gym to do some light cardio followed by some heavy weights – which felt great in that gym pain kind of way – only to finish and start to feel really sick as I had a shower as my body desperately tried to find an energy source, failed, and so decided to moan at me like a child who you just tried to persuade to eat mushy peas only to regret it when your favorite shirt took on the texture and colour of said peas (no, I didn't throw up, just felt like I was going to.)
The bright side of this is when I got home, I had some protein, informed my other half of my hunger situation and am now currently waiting for dinner to be cooked for me which I can't wait for.
Oh and the new underwear got lots of attention in the changing rooms, lots of staring, that little bit of extra information is just for you Dan 🙂
And just for you Ben, here's a graph showing my hunger level vs the average rainfall in Timbuktu vs the age of a random panda.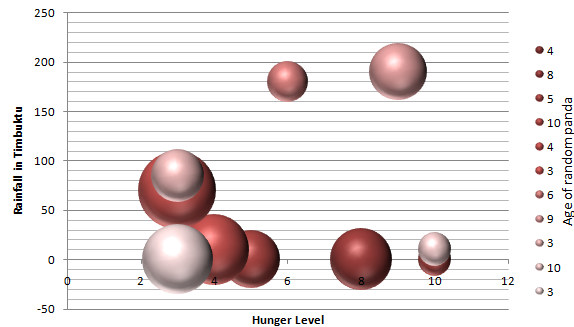 Comments
comments